Charting Capitalist Waters, Part One
a new series where I question my decision-making regarding opportunities offered me
Charting Capitalist Waters started as a single post. Upon finishing it, though, it feels more like the start of a series. So I am marking this "Part One", in the style of [Jason's] Unfolding Queer Cosmology (I'm working on the next part now!) There will be more because we're all charting our course through this capitalist shit. And maybe sharing how I'm navigating it might inspire other directions, directions that will ultimately lead us away from the oppression, exploitation, trauma, extraction, and annihilation of capitalism.
---
Image description: An illustrated selfie with my cap pulled over my eyes and my tongue sticking out. It is on a fire red-orange background. My beard is magenta and my tongue is blue. Handwritten in an arch over my head reads, "I believe we are on the verge of a massive paradigm shift." Under my beard in handwriting is "Jason Wyman 100 Days © 2017".
From: #100Days, a project where I illustrated a selfie and articulated my values, beliefs, and dreams during the first 100 days of the Drumpf presidency. The colors are drawn from photos in news articles I read that day.
---
We all swim in the shit of capitalism. Nothing we do, make, create, nurture is outside of it. Nothing. It's there as we sleep, while we're awake, and even follows us into the grave. We are so steeped and seeped in it, it feels impossible to chart a course through it towards something at least not as shitty. And the shit's already all over us.
How we navigate our decision-making around money has been something I've been curious about for decades. I did a coloring book residency at Alley Cat Books in 2018 with artists in San Francisco called The Value(s) of Art(ists). I interviewed 24 folx about what they create and how they choose what money to take. I didn't record the conversations. Instead, I listened intently for a single phrase or saying that summarized their value/s. After our conversation was over, I asked them to share a selfie that reflected their best self, whatever that meant. I transformed the selfie and quote into a page in the coloring book. Folx who either bought or were gifted The Value(s) of Art(ists) added value by coloring it in. It's a meditation on all the ways we are expected to perform our value(s) for capitalism.
I began that project because I was reflecting on an incredibly exploitative and performative experience with Yerba Buena Center for the Arts in 2016. I was selected to be one of their Fellows in a new civics and art fellowship on the topic, "What does equity look like?" My application was a critique on how often arts institutions, like YBCA and Intersection for the Arts, use cultural equity to mask severe economic inequity. In fact, cultural or racial equity often does not equal compensation for either the artists, the art, or the community being exploited by the institution who is using their art, intellectual property, and legitimacy to raise significant funds from the elite and wealthy.
They accepted me. I was honored. I returned the acceptance.
I knew from the moment I walked into the room that the staff who designed the fellowship was not practicing equity. They were performing equity. It was visually clear when about 30 artists were crammed into a room that fit about 15-20 folx comfortably. Fortunately for YBCA, none of the artists were in a wheelchair or had mobility issues. Still, I saw this lack of access immediately, and it made me suspect of what was to come.
What followed was worse than just cramped space. First, the only beverages available were alcoholic. This already demonstrates not being fully aware of folx that don't drink. It also was negligent because three of the four walls of the room are windows and the mid-day sun heated the room to sweltering. I had to fill my glass in the bathroom.
Our opening activity was an exercise of vulnerability. We were to share a book and an object that represented or expressed our understanding of equity. With around 30 folx in attendance, this should have been something handled gracefully and with nuance. Instead, we were invited to facilitate ourselves. In a multi-racial and multi-gendered space, this always means white men take up more space. And they did.
When time was running short, a white YBCA assistant staff member (not responsible for the Fellowship) rose and asked the remaining people to be conscious of time and keep their comments to a minimum. Two of the three remaining people to present were Black women. Gratefully, one Black woman didn't listen to the request and took all the space she wanted.
The YBCA fellowship came with a $1000 stipend for a years worth of intense work. It also came with an exhibition opportunity and my name on their website. The totality of this package seemed like something of value to me, and they made it very clear that it was valuable. Still, my initial experience was inequitable. I wanted to talk to the staff responsible to share my experience and concerns. I wanted an opportunity to practice the art of values, something more important to me than compensation.
I worked with another artist and we requested a meeting. Her schedule was more flexible as I worked a minimum wage job at a cafe and couldn't miss shifts. We were told that the staff member would be leaving on their regularly scheduled sabbatical, so time was limited. Due to this constraint, I never got to meet with the staff member. My low wage job prevented me from practicing my values. Their sabbatical prevented them from flexibility. None of this seemed equitable to me.
I went for one more fellowship session—a dinner between two cohorts of fellows and YBCA staff. It was billed as a decolonization dinner. We sat at long tables in one of their big rooms with windows on two sides that look out into Yerba Buena gardens. It was dark, and the room was lit. We were performing dinner for everyone in the gardens; there were two locked doors between us.
I looked around the tables, and I noticed the YBCA staff. They were all administrative and managerial staff. There were no installers or preparers present. There were no janitors or security staff sitting at tables, they were only there to perform the function of their paid labor. There was absolutely no laborer present.
We were served our courses of delicious food. We were asked to be in deep conversation with our table mates about our cultures, food legacies, and ancestors. Over and again we were told this was a decolonizing dinner as a photographer hovered and snapped too many photos to count of our particular section of the table which included a white YBCA marketing staff member, a prominent Black poet, myself looking like a Mission-hipster artist, an anti-displacement artist, and a Black arts educator. We were the exact YBCA aesthetic of decolonization as we performed for folx who were homeless and hungry on the other side of the window. I got nauseous and left.
I emailed the staff in charge, who was not at dinner due to their sabbatical, the next day. I told them that I did not want my name appearing anywhere on YBCA's website. I also reminded them that they hadn't yet received a signed contract from me and as a result that they do not have permission to use any image or photo of me. I offered to join in conversation with the staff outside of YBCA (and not within their grounds) because I wanted to still share my experience (and values) and I did / do not feel safe in YBCA. I received a short simple response acknowledging my request for name removal and for not using my image; it concluded with a "best of luck".
That was the end.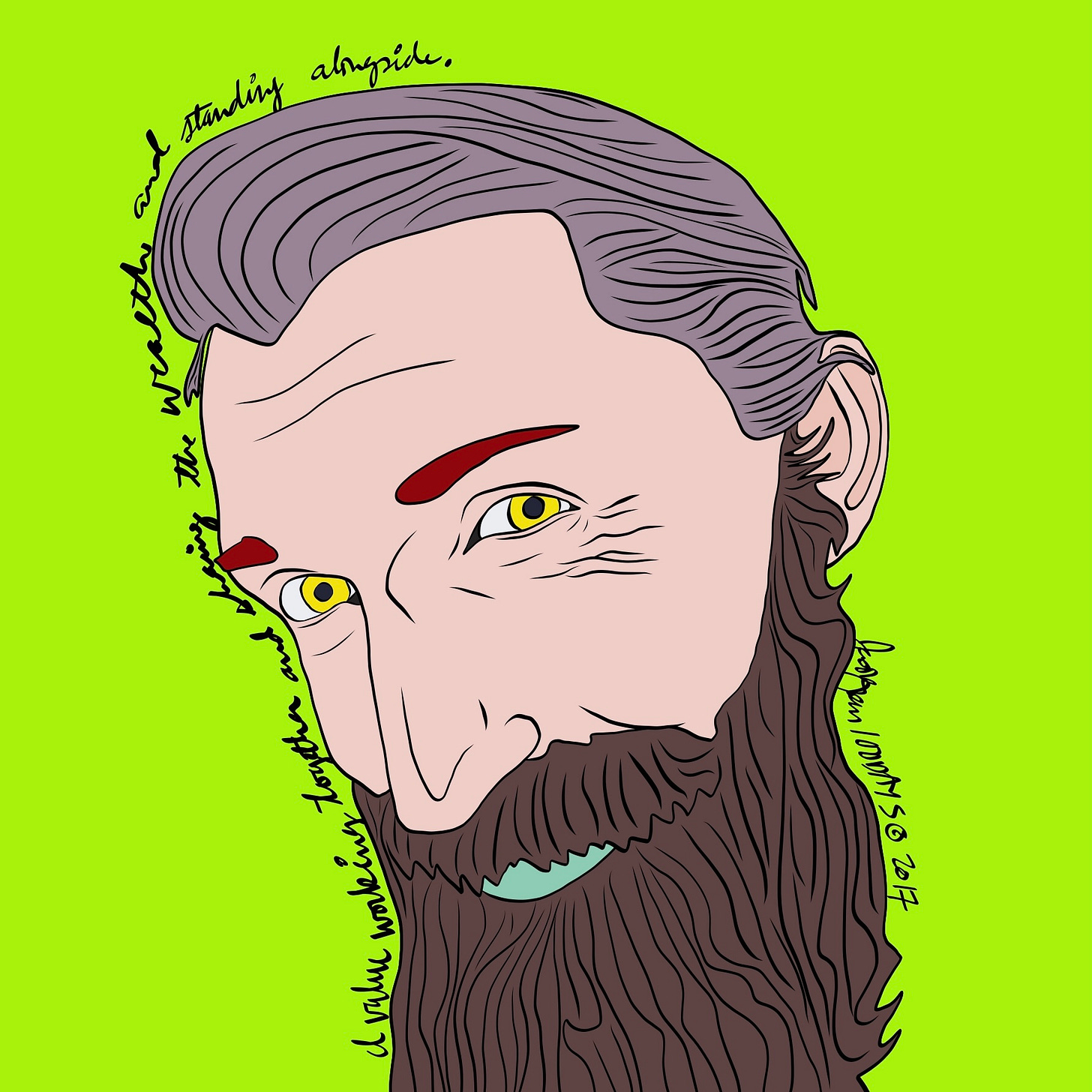 Image description: An illustrated selfie with my hair pushed back and slight smile on my face. It is on a chartreuse background. My beard is brown, my hair is gray, and my lower lip is sea foam green. Handwritten in along the left-side of my face reads, "I value working together and sharing the wealth and standing alongside." On the right side of my face handwriting is "Jason Wyman 100 Days © 2017".
---
I think of this experience often as it is one that is still so complex for me. So many incredible people and folx that have been and have become my comrades participated in YBCA's fellowship. Their voice and art legitimated/s the White Institution, and in return their art and voice is legitimated by the White Institution. It is a circle of aesthetic equity washing. And I am unsure that the artists / my comrades are receiving an economically equitable exchange. Instead, I think this cycle of White Institution legitimization is ultimately a cycle of exploitation, harm, and oppression.
At least that is my experience with this White Institution regardless of who is the face of it.
These shitty waters of capitalism make me question my decision-making. Did I do the right thing in walking away? Could I have been more accommodating to the YBCA staff holding the power? Should I be writing about my experience? Do I use names or not? What is my intention in writing and publishing this story?
My intention today is simply to outline for myself the contours of these complications. I think I did the right thing walking away. But if I stayed, I could have pushed in other ways, and I would have a YBCA art credit to my name. Leaving means I extracted my voice, image, and name from the process. It means I didn't really exist except in this particular story. But do I need to exist in a space of oppression and exploitation? Is that really aligned to my value?
I am often making calculations in my head about the use of my literal body and image as a means of legitimization. This YBCA fellowship is just one of many examples. All of my examples are messy, problematic, complex, and full of shit. What has been helpful is some questions I asked myself when making my decisions to leave the fellowship, and I offer them to you in closing. (See below my illustration.)
Reflecting back on these questions, I think I made the decision best aligned to my understanding and expression of my value(s) in 2016. And I would make the same decision today.
Image description: An illustrated selfie with only part of my face on the left-side of the image. It is on a royal blue background. My face is army green, my eyebrows orange, and my eyes purple. Handwritten in along the right-side of my face reads, "I dream to remember that which flows through bones and blood." On the bottom in handwriting is "Jason Wyman 100 Days © 2017".
---
Some guiding questions regarding my value(s):
Who benefits from my name being attached?

How do they benefit?

What is my position within these waters of influence?

How much am I being used versus how much am I receiving and how is what I am receiving shared?

What is the core of my being and what are the ripples of our interactions?

How can I practice my value(s)?